6/30/2016
Trimming your shrubs and hedges is essential if you want them to remain healthy and look their best. This process involves removing dead and decaying leaves and branches so they don't affect the growth of other limbs. We recommend trimming the shrubs when they start to look overgrown. They may appear too tall, too wide, or both. Your shrubs also need trimming when they are blocking sunlight from reaching other plants, the center of the bush is starting to lose leaves, or it has a general sickly appearance.

How to Prune Your Shrubs
To start the pruning process, trim branches that have overgrown on the outside. It's best to start at the top of the shrub and cut it to the desired height. Remove dead branches and yellowed leaves as well as anything that appears to have fungus on it. Be sure to make clean cuts towards the center of the shrub to prevent any infections from spreading. Raking up everything you cut from the bush will prevent infection from spreading as well.

At The Lawnsmith, we use hedge trimmers, loppers, and shears to give your shrubs a clean, professional look. You can save time and have the best looking shrubs on the block when you schedule shrub and hedge trimming with us.

Repair Problem Areas on Your Lawn with New Sod Installation
Bald spots, brown spots, fungus, and other common problems can leave your lawn looking less than desirable. The answer to this dilemma is to replace the problem areas with new turf grass. This is an involved process that many homeowners don't have the time or the skill to do on their own.

At The Lawnsmith, we take care of everything for you. From the initial measuring of the area receiving sod to ordering the materials to laying it down, you can depend on our experienced crew to make your lawn come back to life. We also offer guidance on how to care for the new sod so it remains healthy and attractive. When you're ready to
install new sod, just call us to schedule service.

The Lawnsmith wishes you and your family a healthy and happy summer of 2016.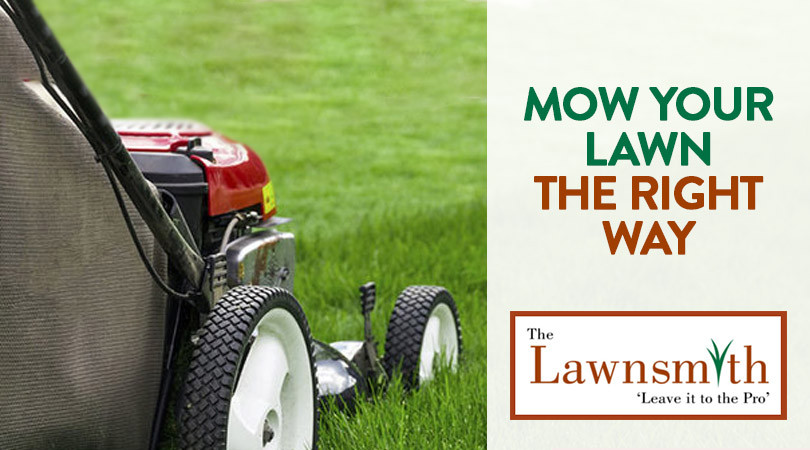 5/18/2016
The most important thing you can do for your lawn to keep it healthy is to mow regularly. However, using improper techniques can cause as much damage as mowing your lawn inconsistently. We typically recommend following the one-third rule. This means you shouldn't cut away more than a third of the grass blades in a single mowing session.

When rain makes the grass grow faster than normal or you don't cut the lawn on schedule due to other obligations, change the cutting head on your lawnmower to the highest possible setting before you mow. In normal circumstances, the middle setting is most appropriate.

Perfecting Your Lawn Mowing Technique
Cutting your lawn in rows will help to keep the lines straight so your grass looks evenly cut when you're finished. This practice ensures that you don't miss any spots while still cutting all the blades. If you have one or more beds in the middle of your lawn, be sure to cut one to two rows around their circumference. The benefit of doing it this way is that you get all of the blades around sections of the grass that can be difficult to cut.

Don't Let the Bag Get Too Full
A bag attached to your lawnmower catches the grass and other clippings after you cut them. When the bag is too full, clumps of grass fall out onto the lawn that you just cut. This can actually kill the grass. To avoid that from happening, be sure to check the bag often while you're mowing and stop to change it if necessary.

How Often Should You Cut Your Grass?
At The Lawnsmith, we advise clients to mow their lawn once a week. Mowing more often than that is stressful for your lawn and a wasted effort on your part. On the other hand, mowing too infrequently can damage your lawn because you remove too much of the plant at one time when you do get around to mowing. This weakens the integrity of the grass and makes it less able to withstand the stresses of extreme heat, drought, and related weather conditions.

We understand that you're busy and may not have time to devote to lawn mowing once every seven days. The Lawnsmith offers weekly professional lawn mowing services that include cutting and trimming the grass and removal of grass clippings from your driveway, patio, and walkways. We can also bag your grass upon request. Now that spring is here, our lawn mowing schedule is filling up quickly. Please contact us today to reserve the spot that works best for you before all available spots are gone.

Photo Credit: MariuszBlach / iStock Photo