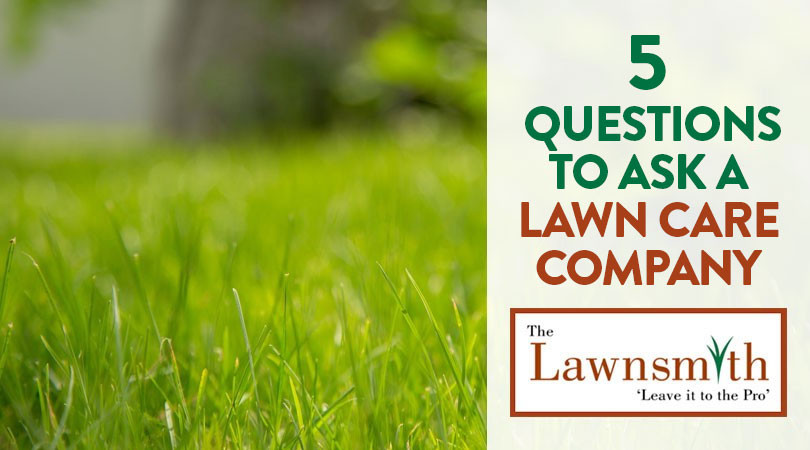 2019-06-20
Warmer weather. Longer days. More sunshine. It's nearly summer! Before you know it, the grass (and the weeds) will be growing like crazy. If you're not the type of person who loves to work in the yard during your days off, it might be time to call a lawn care company. Here are some important questions to ask before making a final selection.
1. Which weeds are included in your cost estimate?
Before you ask this question, it's important to know which weeds are most prevalent in your yard. Certain grassy weeds like crabgrass can be difficult to eradicate and may not be covered by a general weed treatment program.
2. How do you time your lawn care services?

Be sure your lawn care company coordinates when your property gets cut, fertilized, aerated and treated. Have the company explain in what order they provide services and why to make sure you are maximizing your investment.
3. What choices are available for pesticide, herbicide and fertilization services?

Some companies may offer greener solutions that are gentler on the environment. Others may customize treatments for your particular region, grass or weed type, or prevalent problem. The Lawnsmith offers green solutions, safe for your children and pets. This is a key differentiator in selecting a lawn-care company.
4. What other services do you offer?

Being able to hire one company for your lawn maintenance, seasonal cleanup, renovation, mulch installation, shrub trimming and even snow removal services makes your life easier, and more efficient!
5. What sets you apart from other lawn care companies?

Give your lawn care company the opportunity to share its strengths. This might include simple things like sharpening mower blades daily, which ensures that your turf remains healthy and neatly cut, or more specialized offerings.
Asking a few important questions before you select your lawn care company can make you more confident that you're spending your hard-earning money wisely as well as ensure a healthy and beautiful yard.

The Lawnsmith has more than 30 years of experience in maintaining and caring for lawns in the Minneapolis area.
Request a free quote from us today!
Photo credit: Pexels