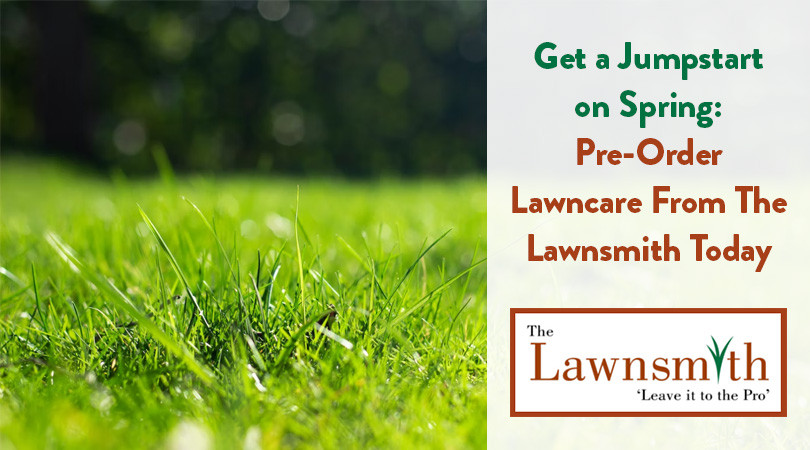 2023-01-02
It's officially the first week of January and we're officially at nearly 46 inches of snow for the season. For perspective, that's approximately 6 inches short of the YEARLY snowfall average!
So, while you're sipping your coffee and applying pain relief cream to your back after the 15th time shoveling from the past 3 days, take the time to plan ahead for the transition into the warm weather months. Pre-order your lawn care from The Lawnsmith today and get ready for spring!
At The Lawnsmith, we offer professional, experienced lawn care services that are tailored to meet all of our customers' needs. From mowing and seeding to fertilizing and aerating, our team of lawn care specialists has the knowledge and skill to make sure your lawn looks its best.
And with our pre-order option, you can get a jump start on spring by setting up your plan for the upcoming season. From monthly mowing services to one-time treatments, The Lawnsmith is here to make your lawn care as convenient and hassle-free as possible. Here are just a few of our services:
Weekly Mowing Services
The Lawnsmith offers weekly mowing services that are tailored to fit the needs of your lawn. Our team will come out to inspect the area, and then tailor a schedule that works best for maintaining it. Our experienced professionals use sharp commercial-grade mowers that will leave your yard looking neat and tidy.
Fertilizing Services
Are you noticing spots in your lawn that are dry or discolored? If so, it may be due to lack of nutrition in the soil. At The Lawnsmith, we offer fertilizing services that will give your grass the nutrients it needs to stay healthy and full. We use a high-quality fertilizer blend that is specifically formulated for Minnesota's climate and soil conditions.
Spring Clean Up & Gutter Cleaning
Winter can be harsh on an outdoor space. That's why at The Lawnsmith we offer spring clean-up services to get rid of all the debris left behind by snowplows and winter storms. We also provide gutter cleaning services which remove leaves, dirt, and other debris from clogged gutters so they don't cause water damage or flooding around your house.
Power Edging & Sod Installation
If you want a crisp edge along sidewalks or flowerbeds, power edging is one of our most popular services. Power edging creates a clean line between hardscapes like patios or driveways and softscapes like turfgrass or mulch beds. We also provide sod installation services so you can have instant gratification with a brand-new lawn!
Mulch Installation & Shrub Trimming
Mulch is an excellent way to create beautiful ground cover while providing nourishment for plants or trees. We offer mulch installation so you can have colorful bedding without having to worry about spreading it yourself! And if you have shrubs that need trimming we can do that too! Our team will help maintain their shape while ensuring they stay healthy with proper pruning techniques.
Make Your Minneapolis Lawn the Envy of the Block with The Lawnsmith
Whether you want weekly mowing service or need help with power edging around your flowerbeds, The Lawnsmith offers top-notch professional services tailored just for Minneapolis homeowners! Get started today by visiting our website to request a free estimate - - so you can start turning heads on the block with an amazing backyard oasis!
Photo credit: onehundredseventyfive / Unsplash