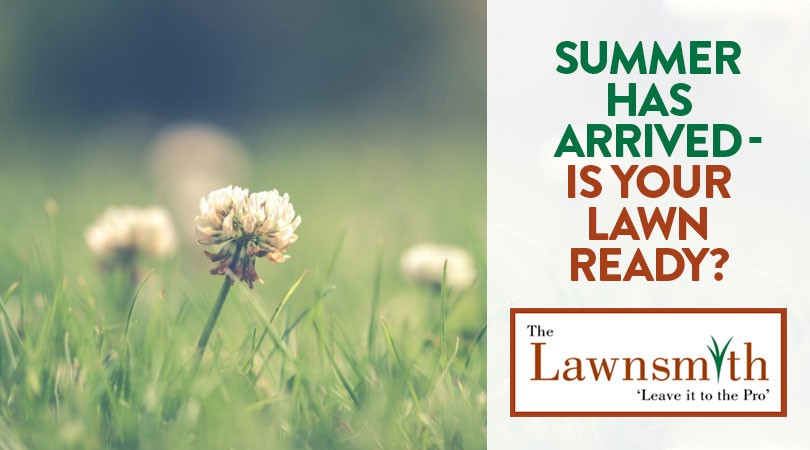 2021-06-29
Summer has arrived, but it's not too late to prepare for the season. The lawn care experts at The Lawnsmith have put together a list of five easy things you can do now to keep your lawn looking great all summer.
Put down mulch
This will help with drainage and prevent weeds from growing. Adding mulch around your plants and trees to safeguard them from the harshness of summer or winter. mulch provides an excellent benefit of holding in soil moisture, helping to provide an optimum environment for plants that you want to be growing. Additionally, another benefit is that as mulch breaks down, it continues to nourish your lawn and garden.
If you don't want to do this yourself, contact us and we'll be happy to come out and take care of it for you! Learn more about our mulch services here.
Water your lawn
We've been experiencing such dry and hot weather recently that without a little extra TLC, your lawn may start to turn brown and brittle. However, it's not quite as simple as it seems. The University of MN Extension has put together a great resource on "Watering Wisely" . It will guide you through various types of plants, trees, shrubs, and yes, your lawn, to help you know the "just right" amount to water. Time of day as well as the amount of water provided is an important part of ensuring your plants and grass are getting what they need to thrive.
Weed your lawn regularly
Weeds are not just unsightly, they make the curb appeal of a home quickly deteriorate.
Left to grow "unchallenged", weeds can invite and become pests. For example, they provide cover to centipedes, gnats or flies. Weeds also can rob your soil of important nutrients and overcome plants that you DO want to be growing in your yard. Weeds tend to grow very quickly, so staying on top of their growth and spread is important.
While it may be tempting to grab a chemical from a home improvement store, consider the other people and pets in your home. Opt for products that are safe for children and pets. Be sure to read directions thoroughly and follow them.
In a previous blog, we also discussed how to properly pull weeds - read it now.
Designate specific areas for your pets to eliminate
Pet waste left behind on lawns can cause an unsightly, and potentially dangerous situation. Urine stains leave lawns yellow and burned. Other waste left behind from dogs can contain parasites and bacteria - causing diseases that are not only harmful to other pets, but people as well.
Not only does training your dog to eliminate in one area help in consistency of training, you will be keeping your yard safer and more sanitary. With consistency, and, of course, TREATS(!) your dog will pick up on these specific areas in no time.
Call The Lawnsmith
Let's face it, summer in Minnesota is just too short to stay indoors, or to be working on your lawn when you could be on a lake, on a hike, or spending time with your family. Keep your lawn in tip-top shape for summer fun! The Lawnsmith can help. We offer a variety of services, including fertilizing, seeding and more--whatever it takes to keep your yard looking great all summer long. Get a free estimate today.
Photo Credit: Pexels.