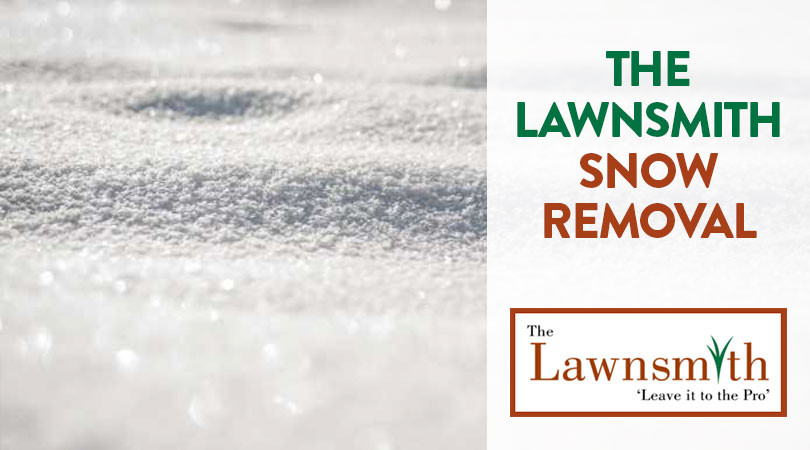 2021-10-11
Before you know it, snow will be flying in Minneapolis. Are you ready? At The Lawnsmith, we have our snow removal services ready to go. In this article, we'll provide a few professional tips to help you get prepared for that first snowfall, whether it is just a few inches of fresh snow, or an all-out blizzard! We know your home is important to you, and being able to gaze out into an idyllic snowfall falling gently on your lawn may be a moment full of nostalgia and quiet reflection. However, having a snow removal plan in the works may help you enjoy those moments even more, when you can be free of worry and free of the thought of needing to get dressed to run out and deal with the newly fallen snowfall.

Your Snow Blower
The first thing to think about is your snowblower. Making sure your equipment is working is simpler in these last warm days of autumn than when the ice and snow are flying.
Check the oil. Is it dirty or jet black? It's time for a change. If this is a task you're unsure of, call your local small-machine repair shop. Having a professional look at it can save you from potential damage to your equipment by letting it run with dirty oil.
Check the air pressure of the tires. Your owner's manual will list the proper PSI (Pounds per square inch) If your pounds per square inch of air is less than it should be, check for leaks in the tires and fill to the correct PSI.
Dispose of old fuel properly, and fill it up with fresh fuel
Check snow blower for any damage, loose parts, or missing pieces. If this job is a little daunting, call your local repair shop.
Give your snow blower a test start. Better to know now if there is additional work that needs to be done than to find out the morning of our first snowstorm.

Stock Up on Snow Melt
There are several different brands of snow melt. There's no "best" or "worst".
It's more of a matter of personal preference. Ice melt can be used on your sidewalks, steps, and driveways to clear away ice. It comes in pellets, cubes, liquids, and granules. Read the directions carefully regarding how much snowmelt to distribute per foot of surface.
Make sure you select a snow melting product that is safe for pets & children - otherwise your pets may experience irritation to their sensitive paws or even stomach upset and illness as they lick their paws after coming in from outside. Kids also track in not only the snow, but also the snow-removal products, so keep in mind that what is on your driveway or sidewalks may also end up inside your house.
Similarly, if you have a new driveway or new concrete that has been installed, be careful of which product you choose. Some products can cause corrosive damage to surfaces, especially if you distribute more than the recommended amount per square foot.

Choose Your Tools Wisely
Don't forget to have your snow shovels in an accessible area. You can use plastic shovels, but be careful of lifting too much - they are not designed to hold as much weight as a traditional metal shovel. Shovels are available which reduce back strain, have reduced stickiness and also do more than just lift snow - to even scrape and push the snow. On your next trip to a home improvement store, ask for what the best size shovel may be for your shoveling needs, as well as which type of material may be best.

You can also choose from several different types of salt spreaders. Salt spreaders are a great way to ensure that the salt is applied evenly, and a great choice for driveways, walkways, and sidewalks.

Pro tip - as long as you're getting these tools handy, don't forget to throw a snow brush and scraper into your car. Show each family member you care by placing one in each of their vehicles, too!

Proper Snow Gear
Just as you select the proper tools to remove the snow and plow it out of the way, take time to select proper gear to wear while you're shoveling. The cost of snow gear ranges quite a bit, but expect to pay more for items of clothing that are waterproof and that can help you stay warm as temperatures get closer to zero. Nothing is worse than shoveling snow with bare or frozen hands or having feet that feel like they won't get warm long after you're done with your snow removal job. You will want to be warm and dry as you clear the snow and ice near your home. Even if you have to pay a little more, the comfort will be worth the cost.

Invest in a Roof Rake
As the snow accumulates on the roof of your house, ice dams can begin to form. Have a roof rake on hand to be able to safely remove this snow before damage is caused to your shingles. The cost of this tool is much less than the cost of needing to hire a roofing company to take on a project such as an ice dam.

If you do find that you do have snow accumulating on your home consider hiring a company for the service of "roof raking". Hiring out for this job may be the best way to ensure that you avoid ice dams, plus the cost of having this service done for you not only saves you work, but also potential snow removal hazards.

Our Professional Team is Here - Hire Us
We know winter isn't everyone's favorite season. Maybe you're even looking for a snow removal service. Our company, The Lawnsmith, is here to help with several snow removal services, including snow shoveling, snow plowing, and clearing your driveway and sidewalks of the snow that has fallen. Maybe you don't have the time to manage the snow, you don't have the equipment needed to remove the snow, or your job takes you away from being able to do early morning work of clearing the snow around your house before you leave. Our pros will do a quality job and give your driveway and sidewalks the attention they need so you can have people enter your driveway and walkways safely. We do more than just lawn care! In fact, many of our customers hire us year-round for their lawn care and snow removal needs.

Get a Free Estimate
If you want to avoid the do-it-yourself route to snow removal, snow plowing, or any other snow related service, request a free estimate here. Just enter in your information, first only your street address (we'll ask for your zip code on another screen), then your full information, and then enter your zip code. Our top-rated lawn and snow-removal service have the equipment and tools ready, along with skilled professionals who are here to tackle your winter snow needs, for reasonable pricing. The available slots that we have for snow removal do fill up quickly, so be sure to book your service with our pros as soon as possible, and get on our schedule. You'll find that our Minneapolis winters are more fun than ever before when you can have our team do the work for you, whether we have two inches of snow or 20, your snow removal will be done! From snow plowing to shoveling you'll find our local professionals will save you time and help you keep the fun and enjoyment in the winter season. We would love to have you as a customer.

Good luck and stay safe this winter, whatever the weather, whether you are driving, snow shoveling, skiing, snowboarding or participating in any other seasonal activity!