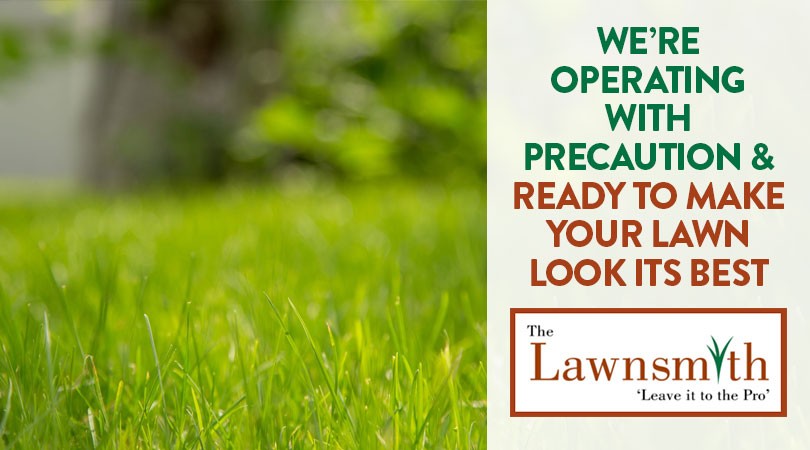 2020-04-22
COVID-19 has many homeowners sitting at home watching their grass grow. And if you're like many, your grass is growing quickly as we finally get to enjoy the warmth of spring. We're ready to jump into action and provide your lawn with the spring-ready maintenance it needs to stay healthy. We're working with all precautions to keep you, your family, and our entire team safe by following CDC guidelines.
Why Should You Book Us for Your Lawncare Today?
1. Spring Care Is Vital for Year-Long Lawn Health
If you want your lawn in optimal health and appearance, don't skip spring care.
We offer spring clean and fertilizing service that allows your lawn to fully embrace the fertile and fertile nature of this growing season. If you want your lawn to look better every year, early fertilization is a must. When you use our fertilization service, it's more than a one-and-done, we return to ensure your lawn stays healthy from spring through summer and into fall.
Did you know your grass needs to breathe to look its best? Our Spring Clean package takes care of your entire lawn, window wells, and landscaped beds. By raking, blowing, and mowing, we can help set your lawn up for success. And best of all, you don't have to stare at an eyesore of debris. We haul away all the brush and bramble, so you don't have to.

2. Spring Mulching Keeps Your Plants and Trees Much Healthier
Fresh mulch isn't just stunning. It's one of the most beneficial things you can do for your garden! Mulch provides many benefits to your plants and trees, like retaining moisture, keeping soil temperature consistent, and protecting plant roots from cold snaps and those hot summer days. Mulch also adds nutrients to your soil.
Spring is the best time to take advantage of all mulch has to offer, and we're ready to deliver, spread, and ensure your mulch looks neat, tidy, and attractive.
We provide hundreds and hundreds of cubic yards of high-quality mulch every year to homes all over the Minneapolis area.
We offer a wide range of mulch materials and colors to fit your garden design. You can choose from Red Cedar, Chocolate or Forest (which are lovely shades of light or dark brown), hardwoods, and many more options. These mulches are long-lasting and brighten up your yard by highlighting the beauty of your landscaping.
3. Help Your Lawn Breathe Easier with Spring Aeration and Double Aeration and Overseeding
Your lawn works hard. From foot traffic to your dog's playground, your soil becomes compacted over time. If you want your grass to thrive and maintain a healthy green glow, aeration is the way to go! Aeration lets your grass grow in thick and keeps your soil healthy, and the spring growing season is the best time to book our aeration service.
How does aeration work? We perforate your lawn, leaving room for your soil to breathe by alleviating soil compaction. This also allows grass roots to grow. These small, unobtrusive holes also allow water to penetrate to encourage better moisture uptake and more nutrients to reach the roots.
We also offer a double aeration and overseeding package for lawns that need a spring makeover. This thorough and deep process removes stubborn and harmful thatch, and seeds your lawn with a specially selected seed mix that replenishes your lawn with healthy, green, strong grass.
Give a Call Today to Schedule a COVID-19 Safe Estimate or Book a Service
Just because we can't shake your hand, doesn't mean we can't come to your home and safely assess your lawn and garden. We value your health above all else, which is why we're doing everything we can to operate within the MN COVID-19 precautions and beyond. Don't let this pandemic put a damper on the beauty of your yard. Call us today!
Photo credit: Pexels