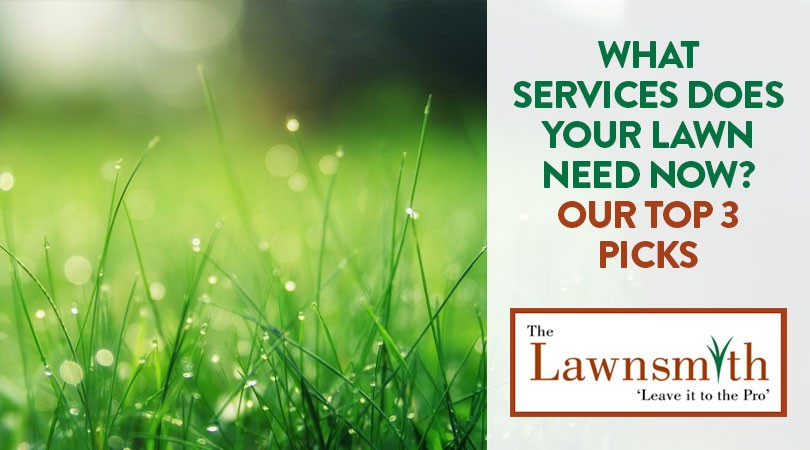 2020-08-06
August is hot. Very hot. This time of year an outdoor honey-do list turns into a "honey-don't-get-heatstroke-while-doing" list. You don't have to spend every hour of the weekend risking heatstroke and dehydration to have a beautiful yard. Hiring a team of skilled lawn experts can turn your Saturdays into relax-days and Sundays into fun-days.
Which services do we recommend for the dog days of summer? Here are our top three suggestions for late summer lawn maintenance to keep your grass green and healthy.

1. Weekly Mowing
During the hottest months of the year, your grass grows rapidly. You may be tempted to give your lawn a close shave so you can mow less frequently.
But beware: this is the wrong move. Keeping your grass longer during the sunniest months helps keep your grass greener. Tall grass blades protect the shaft below from getting sunburned and prevents moisture loss by shading soil.
Mowing weekly can eat up hours of your free time. We have the expertise and equipment to keep your grass at an ideal length and healthy with weekly mowing.

2. Power Edging
Along with growing upward, grass creeps into areas where it doesn't belong. Power edging can whip your lawn back into shape and creates a well-maintained, manicured appearance from the street all the way to your door.
Cleanly edged garden beds, sidewalks, and driveways are inviting and attractive. Don't give your grass the opportunity to spread. We offer power edging to clearly define your lawn and add curb appeal to your home.

3. Weeding and Garden Bed Maintenance
Are you weeds growing like… well… weeds? It's time to pull them before they have a chance to establish themselves and set down seeds that will sprout next year.
Weeding your lawn and garden beds adds appeal to your yard and prepares your lawn for fall maintenance. When the season changes, you will want to dethatch and aerate your yard, then overseed. Starting with a blank canvas, free of weeds, leads to the healthiest lawn you can grow.
We offer hand weeding to rid your yard of unwanted plants. Using our hands and small garden tools, our team will carefully remove weeds at their root, preventing them from returning quickly and spoiling the look of your lawn.
Don't Let Your Lawn Take Over Your Life
If you're overwhelmed by how quickly your grass is growing and want to spend less time pushing a mower, we're here to help. Win your weekend back and enjoy a beautiful, well-kept lawn. What could you do with the hours not spent on lawn maintenance? Request a free estimate today.
Photo credit: Pexels