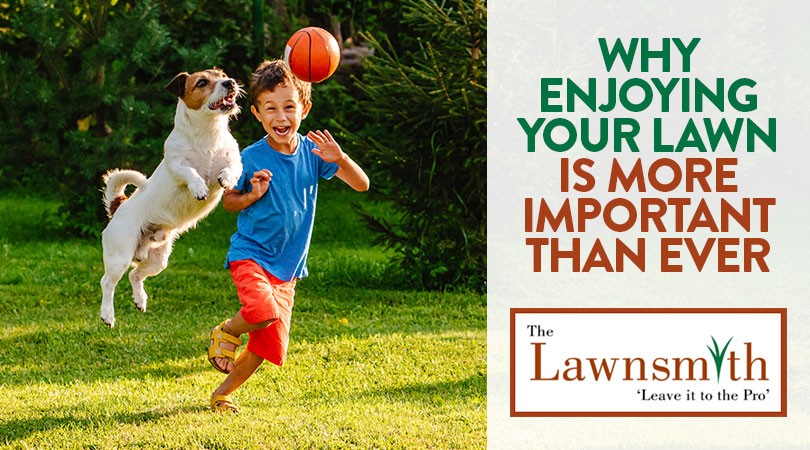 2020-05-11
Among the many questions floating around regarding COVID-19 is "Can you still receive lawncare?" And the answer is a resounding "Yes!" Lawn service companies, like ours, are considered essential. In fact, maintaining your lawn is more important than ever, considering so many of you have become confined to working and only running essential errands. While this is quite obvious there are even more benefits you can enjoy from a healthy lawn and beautiful landscape during this stressful time.

Your Lawn is a Refuge
As social distancing continues, it can be difficult to maintain a positive outlook and not be consumed by worry. Having a lush, well-kept lawn can help you maintain your peace of mind. It also gives you a great place to escape to when you're tired of being cooped up in your home. There's nothing better than getting out into the yard and feeling the sunshine on your face when you finally break away from the telemeeting.
Spending time outside is a natural mood booster, enhances creativity (so you can impress your boss with your ability to achieve remotely, and boosts your immune system.
To take full advantage of a beautiful lawn for relaxation during COVID-quarantine
Pull out the lawn chair, hammock, or even a picnic blanket.
Grab a book a read in the shade
Light some candles and enjoy an evening glass of wine
Grill out
Unroll the yoga mat and enjoy some fresh air

Your Lawn is Your Kids' Playground
With the kids home 24-7, your lawn now serves as a gymnasium, playground, science room, and yard. Keeping your grass cut and landscaping maintained makes the yard more enjoyable during these activities, but it's also safer for the kids, too.
Running out of ideas for keeping the kids entertained? Put your lawn to full use by trying
Planning a bug or plant identification adventure with the kids
Setting up a Slip-n-Slide or water balloon bin on the weekend for the kids (don't worry, if you join in, we won't judge you)
Blowing bubbles with the little ones
Trying backyard camping
Catching some fireflies
Laying a blanket in the backyard and cloud watch or stargaze

Neighbors Are Gathering, Safely, in Front Yards
As we drive through neighborhoods, we see neighbors setting up their lawn chairs, far enough apart to sip a glass of wine and chat. It's lovely to see all the neighborly comradery during this stressful time. Keeping your lawn neatly edged, mowed, and healthy is a great way to create a little outdoor hospitality. If you're going to host the couple next door, you want them to feel comfortable walking through your grass.

Ready to Turn Your Lawn into Your Quarantine Escape?
We're ready to help you turn your front or back yard into your personal refuge. We're taking all necessary precautions to keep our team and our clients safe from COVID-19. Give us a call for your quote or to book one of our lawn care services, now.
Photo credit: alexei_tm / iStock / Getty Images Plus