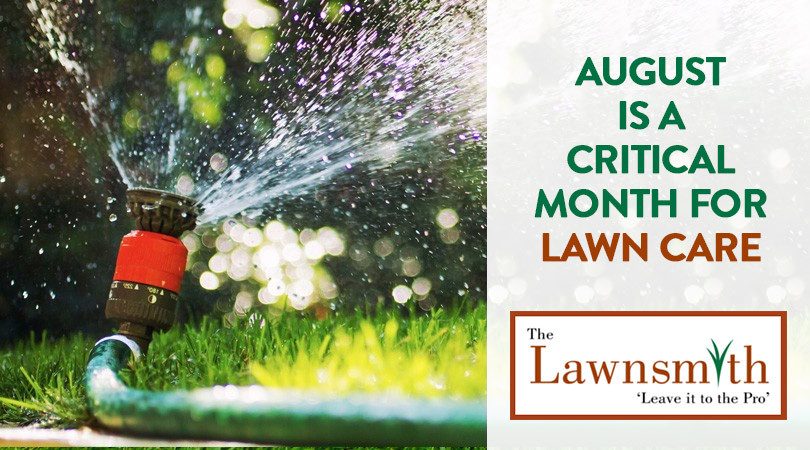 8/7/2017
It's hard to believe that we're already into August, but fall and the cooler weather that comes with it will be here before you know it. This is one of the most pivotal months for lawn care because what you do this month can either greatly benefit or harm the health and appearance of your lawn. This is a stressful month for your lawn for several reasons, including:
Heat and humidity is at its highest of the year
We don't always get enough rain to provide nourishment for lawns
Insect infestation, both above and below the ground
Weeds that only appear in the summer can cause your lawn to look thin
Fortunately, you can do several things to combat these problems so your lawn continues to look healthy until the snow comes.

Basic Lawn Care Tasks for Late Summer
If you have the time, we recommend that you complete
aeration
, de-thatching, fertilizing, and over-seeding either this month or early in September. However, your lawn can still benefit even if you only have limited time to work on it.
One way to accomplish this is to set your lawn mower on a high setting every time you mow so the grass remains somewhat tall. In August, the heat from the sun bears down on your lawn all day and dries it out. This is true even if you water frequently. Tall grass helps to contain moisture and shade the root system from excess sun exposure.

Regular irrigation is another thing you should commit to doing for your lawn this month. For best results, water each zone for approximately one hour two to three times a week. This will help your lawn look green and healthy without increasing your water bill too much.

The Lawnsmith is Available to Assist with Late Summer and Early Fall Lawn Care
The actions you take with your lawn during August and September set the foundation for its health over the long winter and into next spring. Feel free to contact us to arrange any of our recommended services yet this month.

We also encourage you to plan for
fall clean-up
as early as possible. This includes such things as raking and removing all remaining leaves on your lawn, cleaning the gutters, and weeding your lawn and garden. If you're not up to fall clean-up tasks yourself, we offer several options for our customers. The service is very popular, so book now to avoid having to wait for our assistance.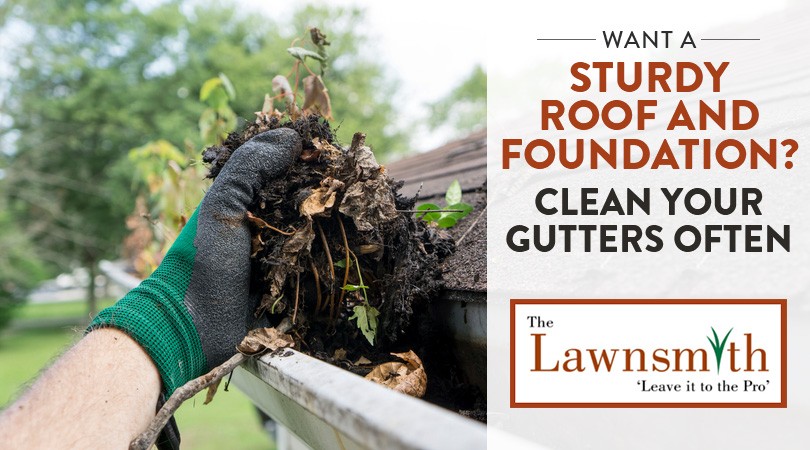 7/20/2017
Your home's gutters serve to protect its foundation, roof, and walls as well as the landscape surrounding it. In addition to controlling the flow of rainwater away from your home, gutters also keep it safe from the effects of snow, ice, sleet, and hail. Another thing to consider is that gutters are often full of leaves, branches, insects, and other debris. This can quickly clog the gutter and prevent the water from flowing through it freely and emptying onto the ground, potentially causing thousands of dollars in home repair costs. The good news is that you can avoid this fate by cleaning your gutters often.

Do You Have a Gutter Cleaning Schedule?
While most Minnesota homeowners understand the necessity of gutters, they often don't realize the importance of regular cleaning. According to a 2013 article reprinted on Angie's List, homeowners should aim to clean their gutters approximately once every four months. If that's too ambitious, you should at least plan to tackle the task every spring and fall. This requires you to work on a ladder and to have the necessary tools to get the job done right.

The downspout attached to your gutters is also susceptible to clogging if you forget to clean it. The water traveling through it will backup and overflow when this happens, which can cause serious damage to the foundation of your home. Homeowners with several trees in their yard should check their gutters and downspout often to ensure the trees don't lose branches or sustains other types of damage.

Reasons to Consider Hiring a Professional
Many people choose to hire a company like The Lawnsmith for this task because they don't have the time or the proper tools to do the job right. They may also not have the physical strength to do so. When scooping out the contents of the gutter by hand isn't enough, an industrial-strength blower helps to remove all the debris. This tool is also effective for ensuring that water has an open pathway to travel through the downspout.

Safety is another major concern of homeowners who choose not to clean their own gutters. Every year, nearly a quarter of a million people seek emergency room treatment due to falling from a ladder at home. If you just don't feel comfortable taking the risk, contact The Lawnsmith for a gutter cleaning appointment today. While many people include gutter cleaning as part of their fall or
spring clean-up services
, we can perform this service during any season.
Photo Credit: IndyEdge / Getty Images